I was thinking the other day about all the people that have made an impact on my life. These four women are people that I look to for inspiration. Thank you for inspiring me.

Jana


Jana is modest and will never admit any of this, and will probably laugh her head off when she realizes that she's on my blog, but I mean every word of it. Jana is one of the most generous, gracious people I know. She's going to be the best doctor ever one day. Jana drops anything she's doing to help a person in need. After Hurricane Katrina hit, Jana joined the Americorps and helped rebuild the part of Mississippi that was hit the hardest. She has that type of mindset that comes around far too often. She's like a little Jimmy Carter protege (say what you want about President Carter, but you can't deny he's a great humanitarian).

The Busy Bee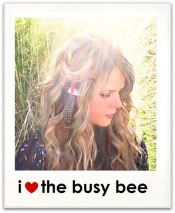 I've been a follower of BBL for a while now, and I'm never not amazed by her posts. Her life is so full of love and she's full of such great insights, that you can't help but love her and her blog. She inspires me to be creative and to just be myself.



My Mama

Mama taught me what love is. She taught me what it is to accept someone for who they are. She taught me that life is not always an easy path, but you have to stay strong. She's the strongest person I've ever met. She is a survivor. I thank God everyday for giving me such a wonderful person as a Mama.
My Maw-Maw
The matriarch of my Mama's side of the family. She truly one of the pillars of my family. She gives all of her heart to everything she does. My Maw-Maw puts her family first. She has taught me the importance of family and of love. PS: She loves to dance and was on Atlanta's version of American Bandstand...that's why I thought this picture was appropriate.
Who inspires you?